Awards
The work of Yachting Limited has been recognised as outstanding by two different organisations.
Scottish Enterprise
Yachting Limited won the prize for the best consumer ecommerce site at the prestigious Winners at the Web awards in 2000. This prize was for the Pet Planet site.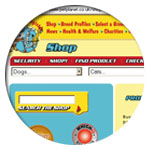 Microsoft
In 2007 Yachting Limited won the best freestyle bot in the UK rounds of the contest to design the best bot to interact via Instant Messenger. We were extremely pleased to go on to win third prize in the global round.

The bot that was created allowed clients to request yacht charter quotes simply by having a conversation in Instant Messenger.
Then in 2011 we won another Microsoft competition.
BlackBerry
We have always been keen to experiment with new mobile technology. In 2011 we won a major prize for an app that we developed for BlackBerry's new PlayBook tablet.
Amazon
In 2017 we won several modest prizes for skills that we developed for Amazon's Alexa devices.