Yachting Limited provided me with an excellent web design and build service. From setting the initial brief through every aspect of the design process to delivery of the finished website, Mike did a fantastic job. Professional, punctual and easy to work with - highly recommended.

Cullen Artworks
We were delighted when Dominic chose Yachting Limited to design the website for his artwork. We had designed a large website for a company that Dominic previously worked for so when he wanted us to design his own website we knew we must have provided him with a great service.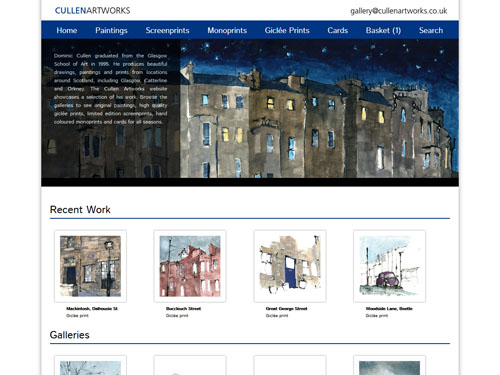 As a designer Dominic was rightly particular about how he wanted the design to look. We enjoy working this way with clients to enable their ideas. The result was an uncluttered website which was a muted wall on which he could hang his delicate art without it being overpowered.
As with all our sites the website was build bespoke for the client, including a bespoke checkout so that the customer could purchase their artwork with the minimum amount of form filling.