I can`t thank you enough for your responsiveness Mike. The website is looking great, it is really nice and clear.

SMCI Associates
The SMCI Associates website is one of several websites that Yachting Limited has created for research and development consultancies. We enjoy this work because it allows us to display the diverse projects that such consultancies are involved with in a clear, easy to use manner (a task we think we are good at).
We were delighted to start working with SMCI Associates in 2009 and to create an easy to use website for her. Despite the passing of time the website has aged well.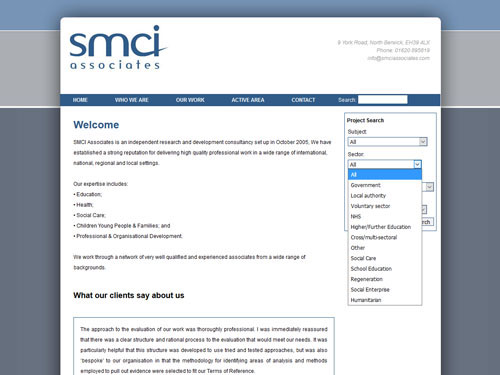 SMCI Associates continue to be delighted with how their site operates and the way in which they can effortlessly update the projects and other publicly accessible information.
The site also has their "Active Area" where we have made it possible for them to collaborate with their partners.
As with almost all the websites that we create it has led to not only the long-time partnership with SMCI Associates but has also led to us providing services to a business that is aligned with them. We must have done a good job.