Scottish Sailing Club Uses Our Website Creator
The St Mary's Loch Sailing Club is an extremely well organised club. As with most sailing clubs it is run by volunteer amateurs who take care of everything including race management, training, catering and building maintenance. All the members are a very friendly bunch but in particular the committee members take on the lion's share of running the club. This is a time consuming task and reduces the amount of time that they can be out on the loch enjoying the beautiful and tricky waters of St Mary's Loch.
This is where Yachting Limited is able to be of a small help in easing their burden. Traditionally sailing clubs have recruited the more IT savvy members, or friends of members, or friends of friends of members, to build a small website for them. These sites vary in quality, especially as they often need to be done for free. Yachting Limited decided to do something about this by investing a great deal of time into developing a Sailing Club Website Creator which can be used by not for profit sailing clubs for free to build their own sites.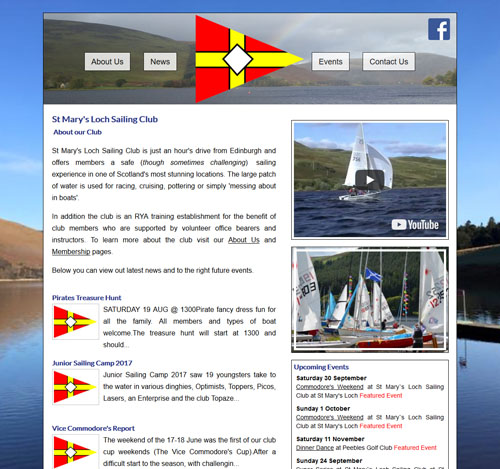 The best thing about these sites is that they contain everything that a sailing club needs from a site including news and events. The sites also integrate with popular race results systems such as halSail to that results are automatically displayed on the site.